Keeping you & your pet safe with COVID-19 
We are doing our utmost to keep everyone safe – ourselves, our clients and the wider community whist we continue to care for pets.
Due to Lockdown restrictions from 28th May 2021 till further notice, we are restricting consultations and procedures to pets requiring urgent medical attention.
We will continue to provide veterinary attention to kittens, puppies and bunnies to continue their primary vaccinations and the first Annual booster (15months of age and less)
Routine procedures will be delayed till Government restrictions are lifted
On line bookings will not be available during any lockdown period
We shall be CLOSED on Sundays during any lockdown period
To avoid our clinic becoming a Tier 1 site, clients will not be permitted in the building unless directed under special circumstances by staff 
Appointments, collection of food and medication will be

by appointment – please call the clinic on 95929811 when you arrive at the clinic for further instruction

Increased Hygiene practice will continue & we ask that you wear a correctly fitting mask
We understand that these are challenging times for all, and we endeavour to ensure that clinic visits remain as stress free as possible for all concerned.
Our team is here to help you and your pet and will assist where ever we can.
We ask that if you have:
Symptoms or signs consistent with COVID-19
Come into contact with someone with COVID-19
Had a flight within the past 2 weeks
A chronic illness
A suppressed immune system
Please DO NOT COME TO THE CLINIC – call us on 95929811 or email us enquiries@middlebrightonvet.com.au
We will make alternative arrangements.
Thank you for your understanding and cooperation!
Are you a new client?
Please register your details here. It should only take about 5 minutes to complete.
We Are…
An experienced team of veterinary surgeons, nurses and receptionists housed in a modern, purpose-built veterinary centre.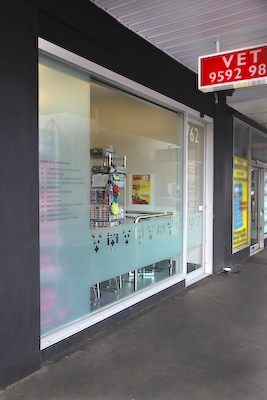 We conduct Puppy Preschool on a regular basis, where we aim to teach puppies good manners in a safe and relaxed environment.

Middle Brighton Vet believes that owners should have the options of the most advanced method of desexing your pet, and, is able to offer laparoscopic spey and castration for your female and male dog.

At the Middle Brighton Veterinary Centre we pride ourselves in offering you and your cat peace of mind when you are away, with our in–clinic Cattery.

Opening Hours
Mon - Fri: 8am - 7pm
Sat: 8am - 2pm
Sun: 10am - 12pm
CLOSED PUBLIC HOLIDAYS
★
★
★
★
★
Marc – Google Review
Super caring vets with lots of experience. Have been going here for 20 years through thick and thin. Dr Murray and Dr Anna are true pet lovers.

★
★
★
★
★
Shona – Google Review

Great family run business. Very caring staff with expert knowledge. Have taken all my cats here for 30 years. Highly recommended.

★
★
★
★
★
Jamey – Facebook Review

These guys are great vets. I am very particular about who looks after my fur babies. Anna would always ask how the three pups were and remember immediately who we were and which dog was in this time.

★
★
★
★
★
Mark – Google Review

Fantastic Vet. Very professional, knowledgeable, caring and attentive family business.

★
★
★
★
★
Barbara – Google Review

 When we moved from the Peninsula to the city our local Vet recommended we take our dogs to Anna and Murray and we have never looked back. We have been going to them for close to 9 years now.

★
★
★
★
★
Harvey – Google Review

Amazing. So gentle and very friendly


Opening Hours
Mon - Fri: 8am - 7pm
Sat: 8am - 2pm
Sun: 10am - 12pm
CLOSED PUBLIC HOLIDAYS
Join our Newsletter
Stay up to date with the latest seasonal pet care advice, offers, and events.