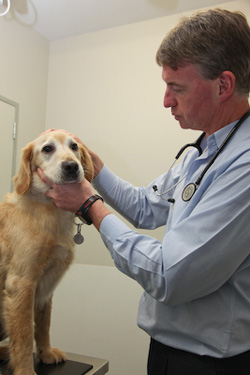 Dr Murray Collings
Veterinarian BVSc. MVS

Since graduating from the University of Queensland in 1986, Murray has spent the majority of his career in Melbourne. He has been the owner of the Middle Brighton Veterinary Centre since 1991 and along with his wife, Anna, has built it into the busy, well respected clinic we see today. The clinic is based on excellence in patient care and customer service.
Murray is our Surgical expert, having completed a Masters of Veterinary Studies in Small Animal Surgery at the University of Melbourne shortly after graduating. He also has a soft spot for Rabbits, and along with the other team members, the Middle Brighton Veterinary Centre has developed a reputation as a 'Rabbit Friendly' Clinic.
Murray is always looking at way to expand his vast surgical repertoire and over the last few years he is proficient in laparoscopic abdominal surgery – also known as 'key hole surgery' – which is at the cutting edge of Veterinary Surgery. This has a profound impact on patient's recovery – this equates to getting back to the park & beach sooner!
In his spare time Murray enjoys motorbike riding & a glass of a good wine with some French cheese!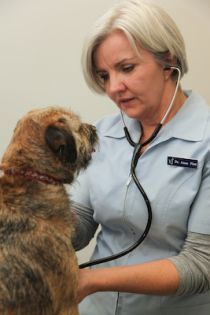 Dr Anna Platt
Veterinarian BVSc (Hons) MVS

Anna graduated Dux of her year in 1989 from Melbourne University and began her career there as a Medical and Surgical Intern in Dogs and Cats. After completing her Masters of Veterinary Studies she worked as an Emergency Vet in Melbourne before travelling to England for some fun and more experience. In 1996 she joined Murray at the Middle Brighton Veterinary Centre.
Anna's interests lie in medicine and animal behaviour and runs the Clinic's Puppy Preschool Program. She is a compassionate vet & dedicated to the health and welfare of all the patients in the practice.
Growing up Anna always wanted to be a vet and has never been without a pet in her life. Family life if busy for Murray and Anna – they have two daughters, Madeline and Olivia – both now at University. They have 4 pets – Tonic a Border Terrier, Bella the ageing Pomeranian and two cats, Truffles – a white cat – that is rarely ever white. Then there is Cali – a very independent Tabby, who has Feline Epilepsy.
When not looking after her family and pets, Anna enjoys reading, sewing and walking – though Tonic & Bella struggle to keep up these days. 
Her goal for 2021 – as always, is to fine tune the work life balance!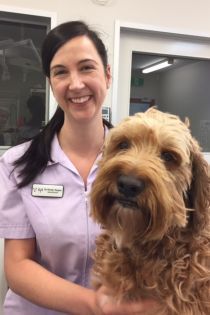 Dr Kirsty Tepper
Veterinarian

Dr Kirsty has been a vital member of our Vet Team since 2015. Kirsty is an experienced, caring Veterinarian and loves those complex cases!
Kirsty graduated from Melbourne University in 2002. Since then she has continued updating her knowledge by completing distance education courses and in 2013 she became a member of the Australian and New Zealand College of Veterinary Scientists in the field of small animal internal medicine.
Kirsty shares her home with her partner, two young children and a aging black Labrador, Koopa. 
Kirsty works on a part time basis at the clinic Wednesdays, Thursday along with shared weekend duties.
Kirsty is currently on Mat leave and due to return to the clinic in June 2021.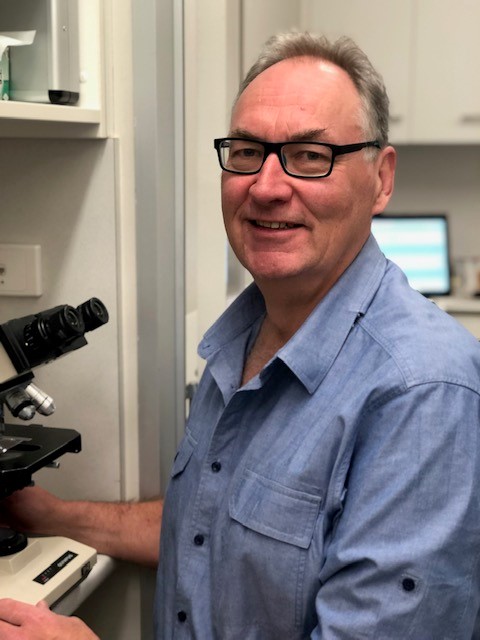 Alan Bult
Veterinarian

Dr Alan joined our team early 2019 and brings a wealth of experience, knowledge and genuine care with him.
Alan has been a practice owner and has been busy in recent years working with shelter dogs and cats.
He is a footy devote, some may say tragic – Richmond is his team!
When he is not working he is kept busy with family life and footy.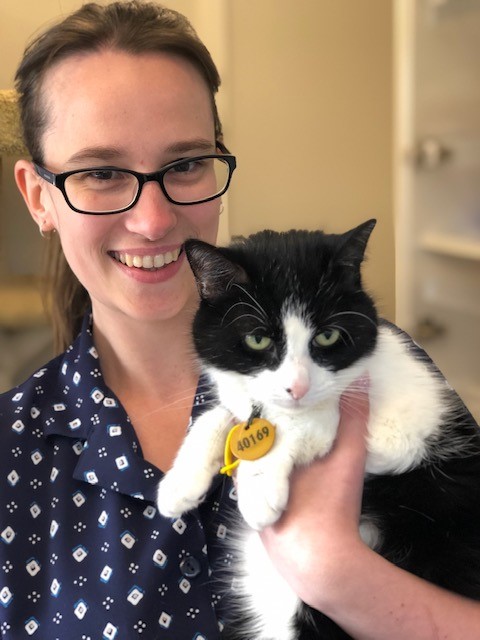 Laura
Veterinary Nurse

Laura is a great member of our team and is studying to become a Qualified Vet Nurse. She is vital part of Middle Brighton Vet, ensuring the smooth running of our clinic.
She lives locally, sharing her house with her naughty but nice cat, Heidi!
Laura is pictured here with Heidi who was having a relaxing time in our cattery.
Laura is studying to complete her Certificate IV in Veterinary Nursing.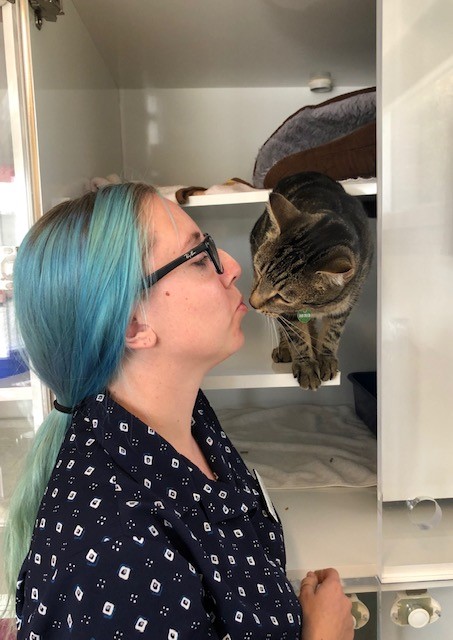 Steph L
Qualified Veterinary Nurse 
 Steph came to MBVC as a new graduate nurse, ready to take on the world with her experiences with birds and emergency ICU work.
Not only does Steph love animals but also reading, and actually named her cat after Harry Potter's mother – Lily.
 Pictured here receiving a very special kiss from the very special Andy who frequently holidays in our cattery!
Briony
Veterinary Nurse 
 Briony is a great member of our team and works to make clients and their pets feel welcome and safe.
She is surrounded by beautiful animals both during the day and when she goes home to her fur family – Kevin and Leslie – spirited whippets – that's Kevin in the photo! and her cat, Toko.
Currently Briony is studying for her Certificate IV in Vet Nursing.
Sophie
Trainee Vet Nurse
 Sophie is a welcomed addition to our nursing team and is studying to complete her Cert IV in Vet Nursing.
Originally from country Victoria, Sophie completed her Cert II in Animal Studies before moving to the city with the goal of becoming a qualified Vet Nurse. 
 Sophie, like all of us, has had a variety of pets throughout her life and is the proud owner of her very grumpy, but very charming cat, Hamish.
 Sophie is an enthusiastic member of our team, pictured here with the very gorgeous puppy, Ruby.
Sophia
Hospital & Cattery Attendant

Sophia is a local school student currently in Year 12 who works mainly in the hospital and cattery. She cares for the surgery patients getting them ready to be re united with their owners and ensuring the smooth running of our hospital – ready for the next day – what ever that may be!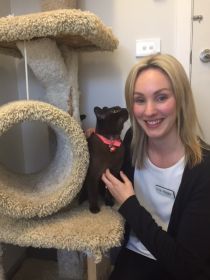 Georgina
Receptionist

Georgina is our star Receptionist!
She has many years front of house experience and we are all delighted that she is the friendly face at reception or on the other end of the phone – Georgina will make you and your pet feel at ease.
She has always been surrounded by animals and has a particular love for dogs – especially her own two Molly and Toby.
Georgina is currently on Maternity Leave for 12 months from August 2020 as she cares for her new baby, Maddison.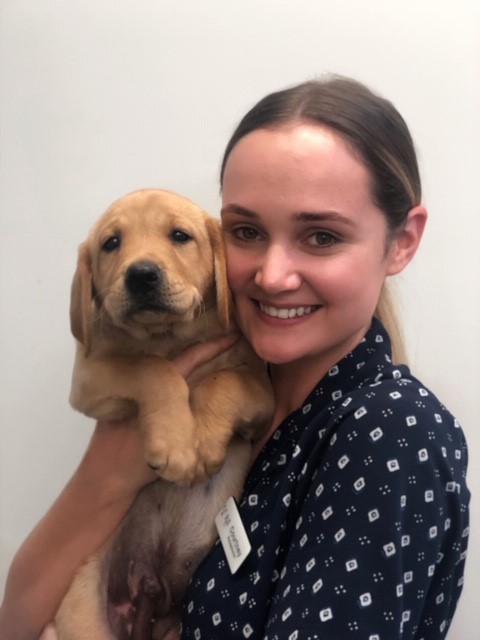 Courtney
Receptionist

Meet Courtney!
Courtney completes our Reception team! She has a kind and bubbly nature and always has a smile on her face. She is quick to greet you and your furry friend with a smile and a tasty treat!
Courtney is fabulous at her job – and we are very appreciative of the extra mile she goes to make our clients and their pets welcome and at ease. She is pictured here giving a comfort cuddle to our new friend, Mav.
Courtney, and her delightful cavoodle – Sir Archibald Bear Collingwood are both mad Collingwood supporters. 
 In her down time, Courtney enjoys spending her time at the dog park and drinking coffee with her friends.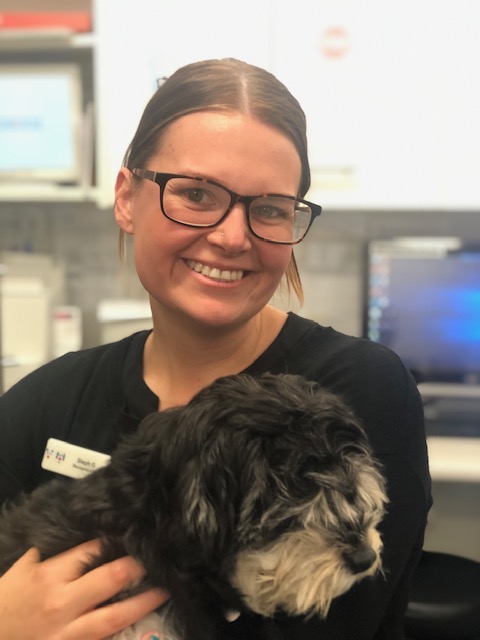 Steph G
Receptionist 

We are delighted to have Steph G as part of our clinic and reception Team!
Though new to the veterinary industry, Steph has been involved in the dental industry for many years – both as a star dental Nurse and also in administration.
She has a great love for all animals and a very caring nature. And had recently added her very own fury baby, Riggs a spirited young Staffy pup!

Opening Hours
Mon - Fri: 8am - 7pm
Sat: 8am - 2pm
Sun: 10am - 12pm

Address
762 Hampton St, Brighton, VIC 3186