Middle Brighton Veterinary Centre >
Emergency Centres
The staff at the Middle Brighton Veterinary Centre are very proud to run the clinic to a very high standard. However we do not have the capacity to provide a 24 hour facility.
Following complicated surgery or an unstable illness such patients require continual veterinary supervision and care, referral to a local Emergency Centre is necessary.
Melbourne is fortunate to have several dedicated Emergency Centres that are able to deal with emergencies and critical care when our clinic may be closed and your pet requires urgent attention.
We strongly recommend that if your pet becomes ill during the day, an appointment is scheduled prior to the conclusion of evening consultations.
 Animal Emergency Centre – Moorabbin, 24 hour care, Wickham Road, Highett, Phone 9532 5261
 Pet Emergency and Specialist Centre 24 hour care, Dandenong Road, East Malvern Phone 9569 3677
 CARE 24 hour care, 5 Hood Street Collingwood, Phone 9417 6417 ** Best for Rabbits**
 Animal Emergency Centre – Blackburn 24 hour care 37 Blackburn Road Mt Waverley, Phone 9803 8122
LOST pet?  Lost pets in Bayside are taken to the Bayside Council's Day facility 76 Royal Avenue, Sandringham 9599 4444 where they are checked for all forms of identification (tags & microchips).  
If an owner is not identified, cannot be contacted or if the animal is collected outside of business hours, it will be transported to The Lost Dogs Home.
Lost Dogs Home
920 Thompsons Road
Cranbourne West VIC 3977
Phone: (03) 9702 8055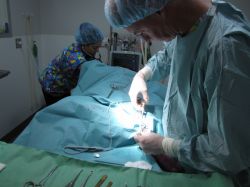 Super caring vets with lots of experience. Have been going here for 20 years through thick and thin. Dr Murray and Dr Anna are true pet lovers.

Opening Hours
Mon - Fri: 8am - 7pm
Sat: 8am - 2pm
Sun: 10am - 12pm

Address
762 Hampton St, Brighton, VIC 3186