Surgical Services >
Key Hole Surgery
Middle Brighton Vet believes that owners should have the options of the most advanced method of desexing your pet, and, is able to offer laparoscopic spey and castration for your female and male dog.
This advanced surgery can only be carried out by a small handful GP Vets in Melbourne, and Dr Murray Collings is one of the select few. His drive to become trained for this advanced surgical procedure was the comfort of our pets.
Laparascopic surgery, commonly known as key hole surgery, results in a more comfortable patient post spey and a faster return to normal activities – so she can get back to normal sooner!
We are able to perform:
Spey – we remove both ovaries so your pet cannot have any more seasons or come into heat
Cryptorchid castration – where one or both testicles fail to leave the abdomen
Gastropexy – where the stomach is tied down to the wall of the abdomen to prevent twisting – know as gastric torsion or bloat
Minimally invasive abdominal surgery for abdominal exploration, including liver biopsy, intestinal biopsies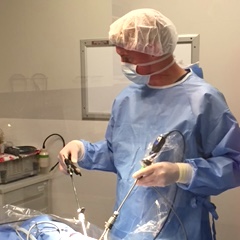 Super caring vets with lots of experience. Have been going here for 20 years through thick and thin. Dr Murray and Dr Anna are true pet lovers.

Opening Hours
Mon - Fri: 8am - 7pm
Sat: 8am - 2pm
Sun: 10am - 12pm

Address
762 Hampton St, Brighton, VIC 3186