Surgical Services >
Desexing
Surgery is conducted Monday to Friday in our dedicated sterile operating theatre. We not only have advanced equipment to monitor your pet whilst anaesthetised (Heart & respiratory rate, oxygen levels, blood pressure, ECG & body temperature) but have a dedicated nurse monitoring your pet's progress during the anaesthetic till recovery.
Dr Murray Collings heads the Surgery team and is particularly skilled in soft tissue and orthopaedic surgery having achieved post graduate qualifications in surgery at the University of Melbourne at Werribee.
We also offer Laparoscopic Speys (removal of ovaries) and
Cryptorchid castration (where one or both testicles fail to leave the abdomen). This minimally invasive has many benefits for both cats and dogs, with a much smaller surgical opening, your pet will recover faster and this means for dogs – we do not restrict activity for as long as conventional abdominal surgery.
Dr Murray Collings is a skilled Surgeon and has taken an interest in Laparoscopic surgery and is one of only a handful of non Specialist Vets in Melbourne offering this procedure.
Surgery Requirements:
No food after 10pm the night prior to surgery
Normal access to water
Admission is by appointment with the Surgery Nurse. Please allow 10 minutes.
Discharge is by appointment with the Vet. Please allow 10 -20 minutes.
Revisits are by appointment, generally 3 days and 10 days post surgery to evaluate your pet's progress.
To keep your pet safe and healthy whilst under General Anaesthesia all dogs and cats receive Intravenous Fluid Therapy.
We recommend Pre Anaesthetic Blood testing prior to anaesthesia. For more details why this is good for your pet, see Scout's story.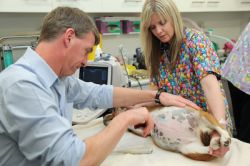 Super caring vets with lots of experience. Have been going here for 20 years through thick and thin. Dr Murray and Dr Anna are true pet lovers.

Opening Hours
Mon - Fri: 8am - 7pm
Sat: 8am - 2pm
Sun: 10am - 12pm

Address
762 Hampton St, Brighton, VIC 3186