Diagnostic Services >
Pathology
Even though as veterinarians we are well skilled to detect illness in dogs and cats, the clinical examination is limited in how much information it gives us. This means at times we will need to run blood and urine tests to further evaluate the health status of your pet and to determine the effect of medications on your pet.
Many tests we are able to conduct in our onsite laboratory with the results within the hour:
Urine test
Pre anaesthetic blood testing
Emergency blood testing
Needle biopsies
Cytology (ear, skin)
More complex blood testing & tissue analysis are sent to a commercial Vet Pathology Laboratory on a daily basis.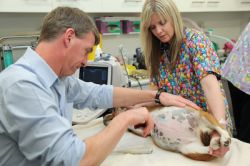 Super caring vets with lots of experience. Have been going here for 20 years through thick and thin. Dr Murray and Dr Anna are true pet lovers.

Opening Hours
Mon - Fri: 8am - 7pm
Sat: 8am - 2pm
Sun: 10am - 12pm

Address
762 Hampton St, Brighton, VIC 3186